On the Money: Meet the Women Who Created the 2020 Women's Suffrage Centennial Silver Dollar
The United States Mint's (Mint) 2020 Women's Suffrage Centennial Silver Dollar marks 100 years since the 19th Amendment became law. The 19th Amendment declares that the right to vote "shall not be denied...on account of sex." For many women, especially women of color, the fight for voting rights didn't end when the 19th Amendment went into effect.
To mark this major anniversary, the Mint produced a coin designed by Christina Hess and sculpted by Phebe Hemphill. The coin pays tribute to the generations of women, including many women of color, who advocated for the 19th Amendment. We spoke with these women about their experience creating this coin.
Christina Hess, designer
How did you get involved with this project?
This is my first finished project with the Mint. About two years ago, the Mint did a call for their artistic infusion program. I sent a portfolio in, and then did a demonstration design. I was accepted to the program.
Several artists from the program and I were asked to create designs for the 2020 Women's Suffrage Centennial Silver Dollar. Two committees, as well as experts from the Smithsonian, reviewed entries and recommended the final designs.
Artists could enter as many designs per side as we wanted, so I sent in two designs for each side. I was absolutely stunned when they chose me for the obverse, and even more stunned when they chose me for the reverse as well! Design managers at the Mint have told me it's not often that an artist gets to design both sides of a coin.
What excited you about designing this coin?
It's really funny, because when I was in school, I couldn't care less about my history classes. As an adult, I've learned to appreciate the history of different things, especially people. With this coin, the number one thing that drew me in was learning how long it took to get the 19th Amendment ratified. I found that absolutely astonishing. This wasn't just one moment in time—it was decades. Many of the women who started this movement weren't around to see the 19th Amendment ratified. The persistence and resilience of all these women, fighting for something so meaningful, really excited me.
What inspired the design on the 2020 Suffrage Centennial coin?
I really wanted to somehow show that women from different time periods were involved in this movement. The more detail, the better. I dove into the fashion of the 1880s, the 1900s. Their hats were just amazing. Hats worked as a big marker to the different time periods involved.
I also wanted to make sure I showed a diverse set of people and faces. Suffrage was such a big movement that showing just one face wasn't enough. The movement was about women of all races and women of all ages. The coin has an older woman in the back, a younger woman in the middle, and a young African American woman up front. To create the different faces, I researched historic images of women from that time period.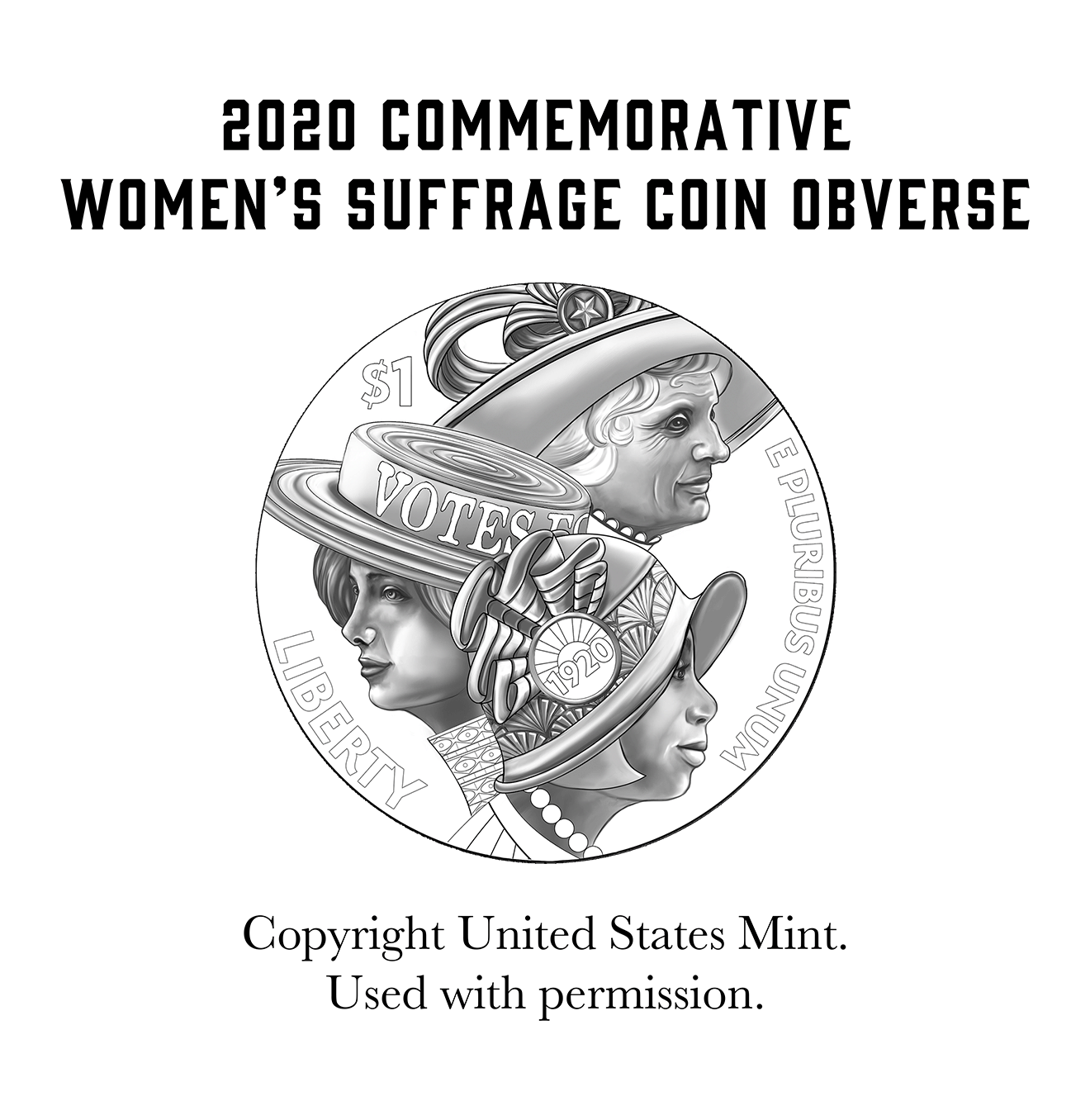 For the reverse, I also researched tons of art deco designs to represent the 1920s. I took a bunch of designs I liked, and I distilled some of the shapes down to make my own designs that were 1920-esque. I included a voting box, because that's what the whole thing was about. I wanted to make sure the date was going into the voting box, because it adds a little more motion. This was an active movement—marches and protest and fighting.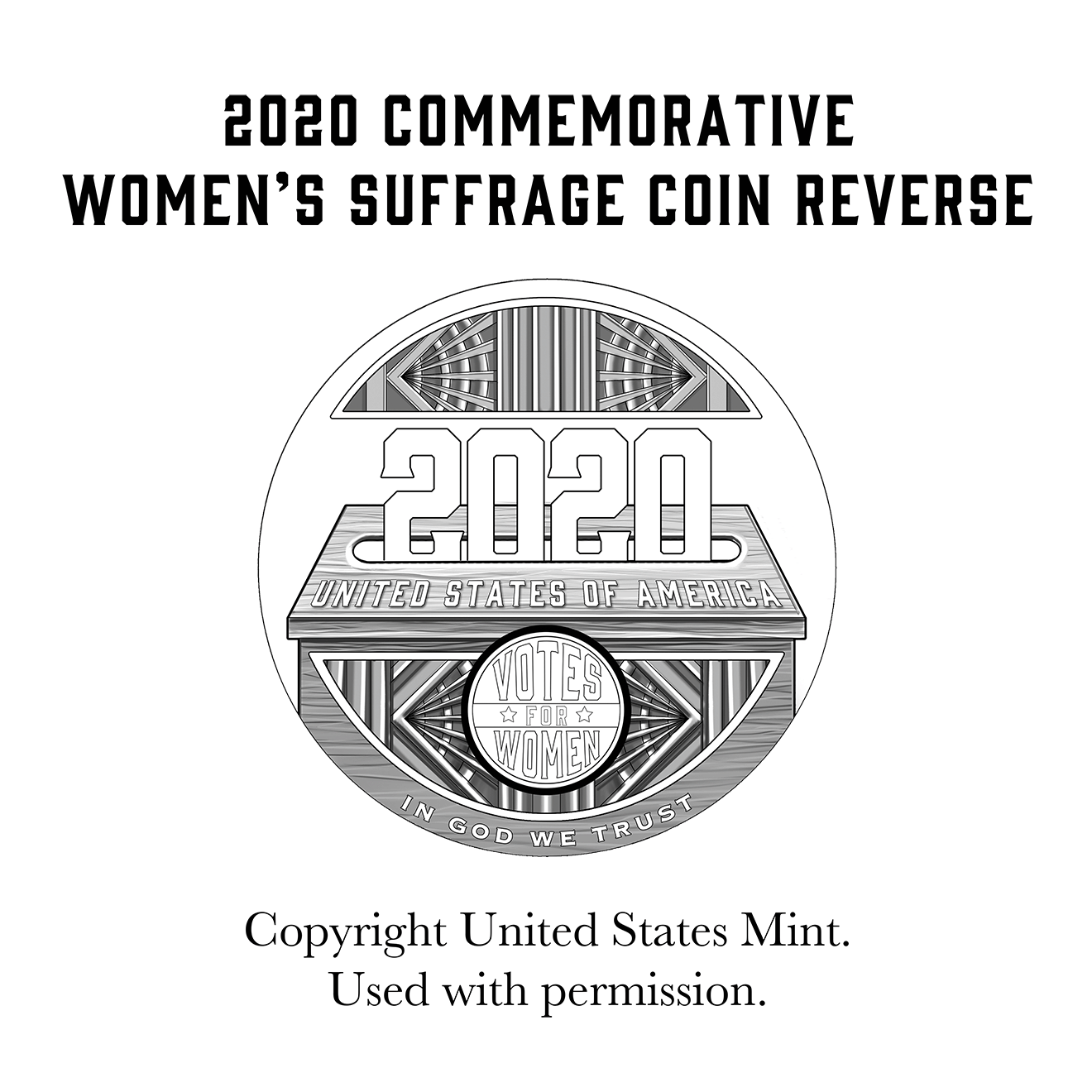 Did you have an audience in mind when designing this coin?
I always have audiences in mind! The Mint says this is meant to be a historical version of the coin. I was thinking about people who love history and people who support women voting. I also wanted to make sure this would resonate with women of all ages and all ethnicities.
What advice would you give to a middle school student who might be interested in getting into your line of work?
First of all, just draw. Draw anything and everything. Take as many art classes as you can. If you can take art classes outside of school, do so. When you're put in an environment with kids you don't know, they challenge you to do things differently. Challenging yourself is what makes you a better artist.
---
Phebe Hemphill, sculptor
What was your role in creating the commemorative coin?
As sculptor, it's my job to take Christina's two-dimensional drawing and turn it into a three-dimensional coin. I think many people will be surprised to know that clay sculpture is still used in this process. I start by sculpting a very low relief model of the three women in clay. This model is refined in plaster and scanned to become a digital model. This digital information is used to make the coin.
Why did you want to work on the 2020 Women's Suffrage Centennial Silver Dollar?
When I saw the design, I knew this would make a beautiful classic coin. I remembered that my grandmother was involved in the suffrage movement. I was honored to be chosen to sculpt this important coin.
What do you think this coin will mean for the next generations, especially young women?
I think it will be a reminder that there was a fight to gain voting rights for women and that we should always value this by exercising our right to vote.
[Ballot box image. Credit: Glass Ballot Jar with Lockable Wooden Housing, 1884. National Museum of American History.]
---
You can learn more and purchase 2020 Women's Suffrage Centennial Silver Dollar. A portion of the proceeds from this commemorative coin will support the Smithsonian's work to amplify the historical record of the accomplishments of American women through research, exhibitions, and programs.
If you want to continue the 2020 commemoration of the 19th Amendment, you can read 19 stories of women who fought for the vote, use our GIFs and stickers on social media, share eight videos about diverse groups who worked for suffrage, and see photos of Smithsonian buildings lit with the colors of the suffrage movement.
Credits
Image of 2020 Women's Suffrage Centennial Silver Dollar. Copyright United States Mint. Used with permission.
Credits