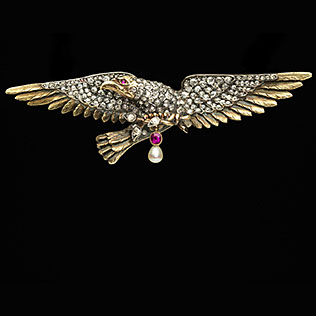 Read My Pins: The Madeline Albright Collection
Smithsonian Institution Building (The Castle)
1000 Jefferson Drive, SW
Washington, DC
Schermer Hall, West Wing
This exhibition features pins from former Secretary of State Madeleine Albright's collection to explore the use of jewelry as a tool of diplomacy and to capture her wit and the expressive nature of her pins.
During her service as ambassador to the United Nations, and then as Secretary of State, Albright came to understand how powerful a symbol an item of jewelry could be, and chose pins to reflect her diplomatic mission, reinforce her negotiating position, or express her pride of country and office. The pins on view span more that a century of jewelry design and range from dime-store pins to designer creations to family heirlooms. She wore these pins at meetings with world leaders and ordinary citizens alike, in settings both formal and informal.
Highlights include:
the antique eagle purchased to celebrate her appointment as Secretary of State
the zebra pin she wore when she met Nelson Mandela
the Valentine Day's heart forged by her five-year-old daughter
a dazzling array of flags, flowers, birds, bugs, fanciful designs, and even a man made out of vegetables.
Related publication
No photography permitted.