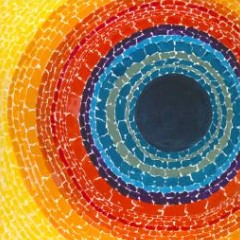 Composing Color: Paintings by Alma Thomas
Smithsonian American Art Museum
8th and G Streets, NW
Washington, DC
Alma Thomas is a singular figure in the story of twentieth-century American art. She developed her exuberant form of abstract painting late in life, after retiring from a long career as a schoolteacher. Blossoming in the mid-1960s, her vibrant, rhythmic art transcended established genres, incorporating elements of gestural abstraction and color field painting. She created a style distinctly her own, characterized by the dazzling interplay of pattern and hue. At a deeply politicized moment in American life, Thomas's abiding sources of inspiration were nature, the cosmos, and music. "Through color," she stated, "I have sought to concentrate on beauty and happiness, rather than on man's inhumanity to man."
Thomas's art first entered the Smithsonian American Art Museum's collection in 1970. The museum acquired more than a dozen works during the artist's lifetime and, upon her death, received thirteen canvases by bequest.
Composing Color: Paintings by Alma Thomas draws on these extensive holdings to offer an intimate view of Thomas's evolving practice during her most prolific period, 1959 to 1978. New research into her materials and techniques show how Thomas continued to innovate until the end of her life, at times changing her methods to adapt to her declining physical ability due to arthritis. As the luminous works in the exhibition reveal, Thomas's astounding creative drive and mastery of color remained constant through her final years.
After the exhibition closes at SAAM, it will travel to several venues across the United States.